Story
A way is provided by obergudt to obtain good locally produced food directly from the best producers, farmers, bakers, microbreweries and beekeepers. As a co-founder, I was able to shape the company's vision and brand from the beginning. I got a deep insight into the startup world and I learnt to pitch ideas, 
and to fail — many times.
Product
Design Iterations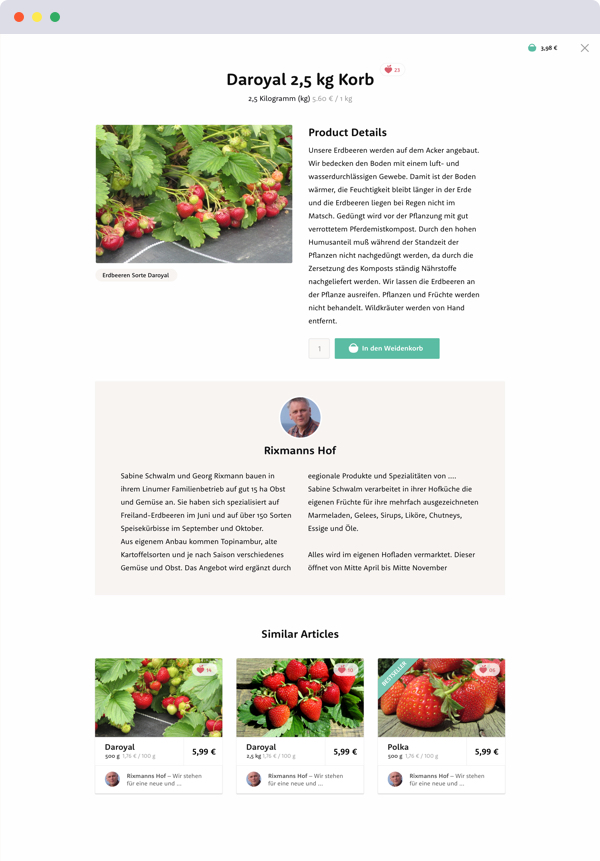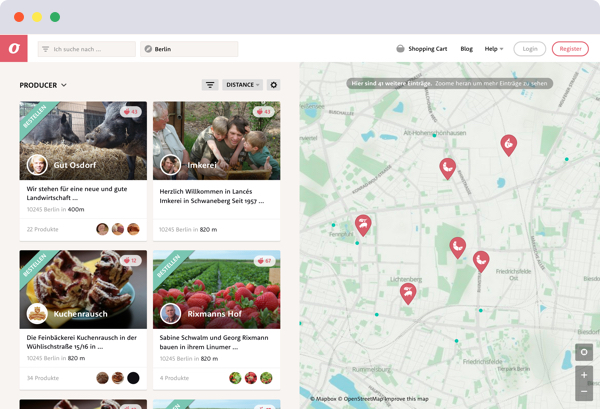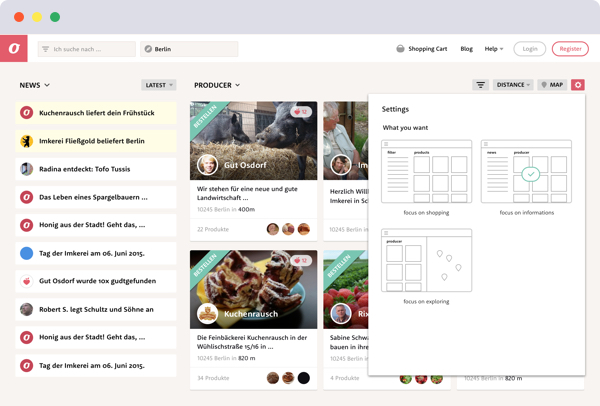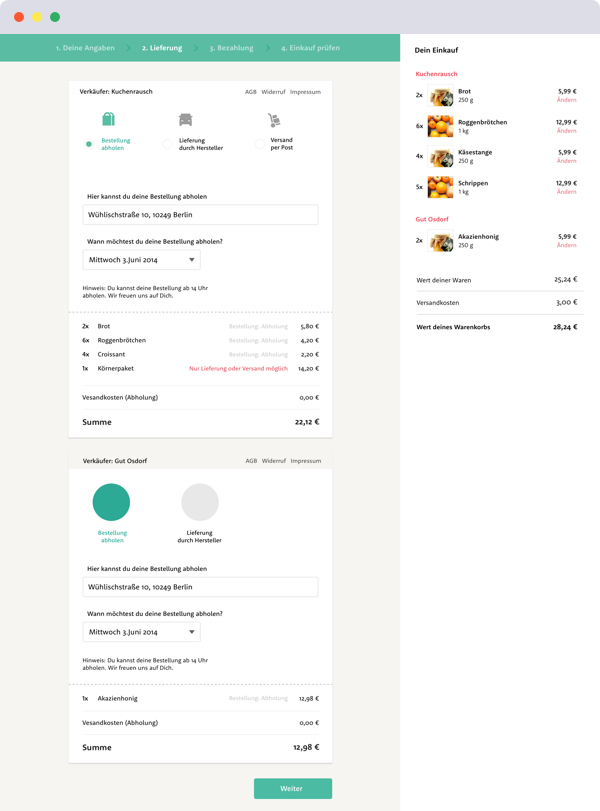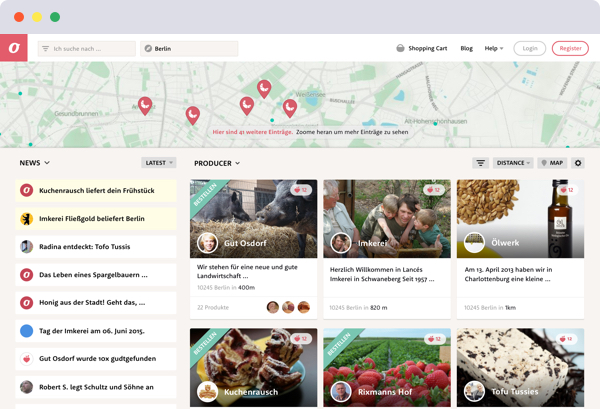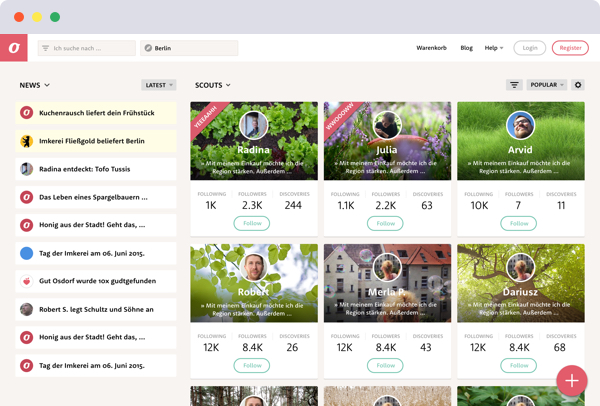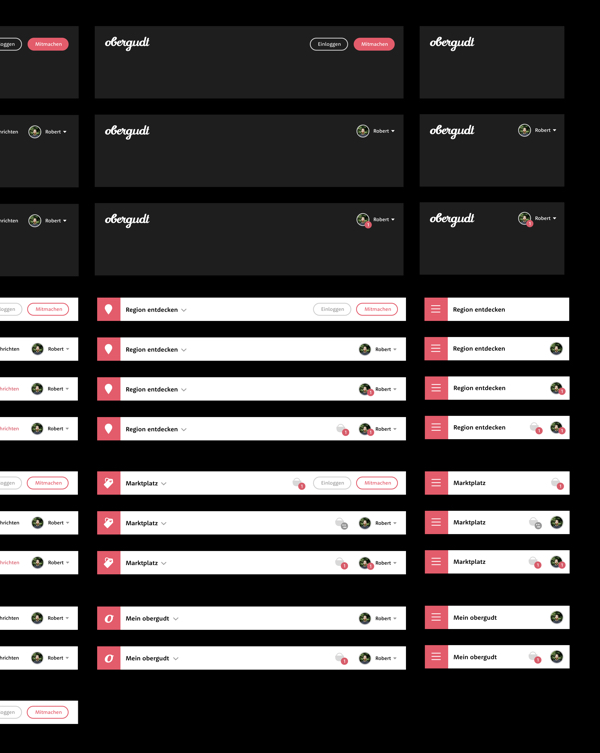 Results
Because many food startups were coming up during this period—and most of them had more financial resources than obergudt, we asked ourselves how we could develop a working product in a relatively short time. We decided to launch obergudt immediately and implement enhancements and new features continuously. My normal working day started in the morning where I designed the information architecture and key screens of our product and put the drafts together in a click prototype. At lunch we briefly discussed the changes, that Arvid our developer was working on and the technical implementation. To summarise we try to make quick design decisions, arrange implementation and then test them with our audience.
In only six months, we succeeded in creating a local food platform where food lovers suggested local producers, made recommendations and bought local goods. The local farmers & producers could register, create a profile and post their stories, show their locations and of course sell their products locally. It was exciting to see how fast you can build a bigger platform when everyone is convinced of the main idea.
Of course, the interface design was a big part of our product branding but it wasn't easy to focus on designing the product and trying to create basic design patterns of obergudt at the same time. At first I designed a new typographic logo of "obergudt" then I realized that I couldn't do all this work on my own and I started to build a small design team. It is really interesting to see the importance of mixing different design disciplines like editorial design, illustration design, interface or interaction design and bring them together.
Every design or brand element must fit the personality of the product or service. Building a new brand is a long iterative process—never a job you could do in a week. Product design is a never ending process and at no time a final specific state. Finally our design team was proud that obergudt was nominated for the eco-design-preis and German design award.
Learn to Pitch
Another interesting experience was to pitch the idea to an audience. Moreover I had the chance to co-present with Arvid at the conference "Design-Trifft-Ernährung Konferenz" in Potsdam. It was a great feeling to see people reacting to us immediately, adding ideas, criticizing and expressing interest after the presentation. Communicating an idea in just five minutes requires good preparation and a coherent story that is then presented in a visual way—after all, we all enjoy being entertained somehow.
Learn to Code
Da wir sehr ambitionierte Ziele hatten und das Produkt schnell verbesserten wollten, versuchte ich Arvid im Frontend mit zu unterstützen. Nach und nach konnte ich dann relativ selbständig neue Seiten gestalten und sofort im Code umsetzen. Das gab mir im Design die Möglichkeit unabhängig an wichtigen gestalterischen Details des Produktes zu arbeiten.
Pick Up Boxes
Nach einiger Zeit merkten wir, dass unsere Idee einer Online-Plattform nicht wie erwartet lief. Mit zu großem Marketing Budget generierten wir neue Nutzer auf der Platform. Woran es genau gelegen hat darüber lässt sich im Nachhinein nur spekulieren. Vielleicht fehlte einfach der Bezug zur physischen Welt oder wir entwickelten das Produkt einfach zur falschen Zeit. Wahrscheinlich ist meiner Meinung nach das wir zu viele Annahmen über die Bedürfnisse der Nutzer und dem Markt getroffen haben und zu viele unterschiedliche Bedürfnisse auf einer Plattform unterbringen wollten.
So entschieden wir uns dazu unsere Ausrichtung radikal zu ändern. Wir schalteten die Plattform 2016 ab und versuchen derzeit regionale Lebensmittel in Form von Boxen für Firmen und Privatpersonen anzubieten. Ganz Offline und ohne Entwicklungsaufwand.
Team and Collegues
Founder: Robert Schultz, Arvid Kahl, Thomas Petrach / Designers: Michael Dietz, Anne Grönniger, Ann Kühl / Dev: Adrian Schäfer / Marketing & Sales: Sarina Sievert, Radina Kaldamukova, Julia Ehrich